Scottish Garden Railways

Large scale trains in YOUR garden or home
Scotlands first Garden Train specialist
---
---
Last goods delivered to this station 26 February 2020
(Sound on this page is of Ex LNER B1 No.61264 leaving Perth)
(POST AND PACKING BY ARRANGEMENT)
---
Items added when available
---
The following pictures are of some of my current secondhand stock. Postage at cost unless I've said I will pay it. Most items are in excellent condition and with their boxes... (E&OE)

MORE, different items might also be available- PLEASE CALL 01786464193, 07914347473 or e-mail sandy@gardentrains.co.uk
---
Train Sets
I have a great selection of Train Sets
PIKO
PIKO Mighty Hauler set. A complete train set with locomotive, 2 X bogie hopper trucks, mains controller and oval of BRASS track. - £220 This is a great new starter set for G scale from PIKO. Loco is really solid with directional and interior lights (person not included). Can be split.
Also just had the first R/C track cleaning version of this loco. Very well made and contollable.

PIKO R/C Transmitter and receivers available separately to convert your own locos. These work independantly on Analogue or DCC layouts using track power or from batteries in the loco.
LGB
LGB passenger starter set. Red Stainz locomotive with sound/lights/smoke, 2 X red coaches, controller, circle of brass track and 4 people - £355. This is a NEW set. New stock price will be a good bit more.
Aristocraft
Aristocraft 22605C Santa FE Centre cab diesel with brake van. Unused, all boxes. - £255
Aristocraft Gas stainless steel railcar Canadian National - great condition with box - £325
SIERRA Coach. Interior, lights, boxed,great condition, - £65
LGB
20225 ALLEGRA three coach unit, boxed and runs well. DCC and Sound. BUT one driving coach has a faulty circuit board so the lights don't work. I would replace it if I could find one but this is proving difficult. So I will sell it as it is for someone to rewire the lights in the end coach or source a circuit board. New these are getting on for £2500 so sold as seen for this one - £800
GB 29432 rHb 4/4 11 #627 Boxed, DCC/Sound , little used pantographs not working- £500
20670 Track cleaning loco, boxed, great condition - only horn missing - £385
White Pass diesel - Marklin version with DCC and sound. Immaculate with all original packaging - £550
LGB 21410 Tractor With DCC, sound,capacitor and box - £300
LGB 21410 Tractor With DCC,nicely fitted with a crane, boxed - £300
LGB 23900 Blue Diesel With DCC,Sound, capacitor, electric couplings, boxed - £350
LGB Rugen railway 0-8-0T loco. This is the latest Marklin version with DCC and sound. Mint boxed - £700 (at least £950 new)
U class 0-6-2t 2171D- A very old "Made in Germany" version of this loco, DC analogue only, as new, tested only with box, real collectors item - £325
This is the earliest U loco 2073D I have ever seen complete with original yellow box with box inserts -£250
I also have a GOLD 50th anniversary Stainz (NEW) - £245
LGB set Stainz - good condition with sound and DCC ready - £140
I usually have several LGB Stainz locomotives of varying ages and conditions All good runners and tested, Real thing shown -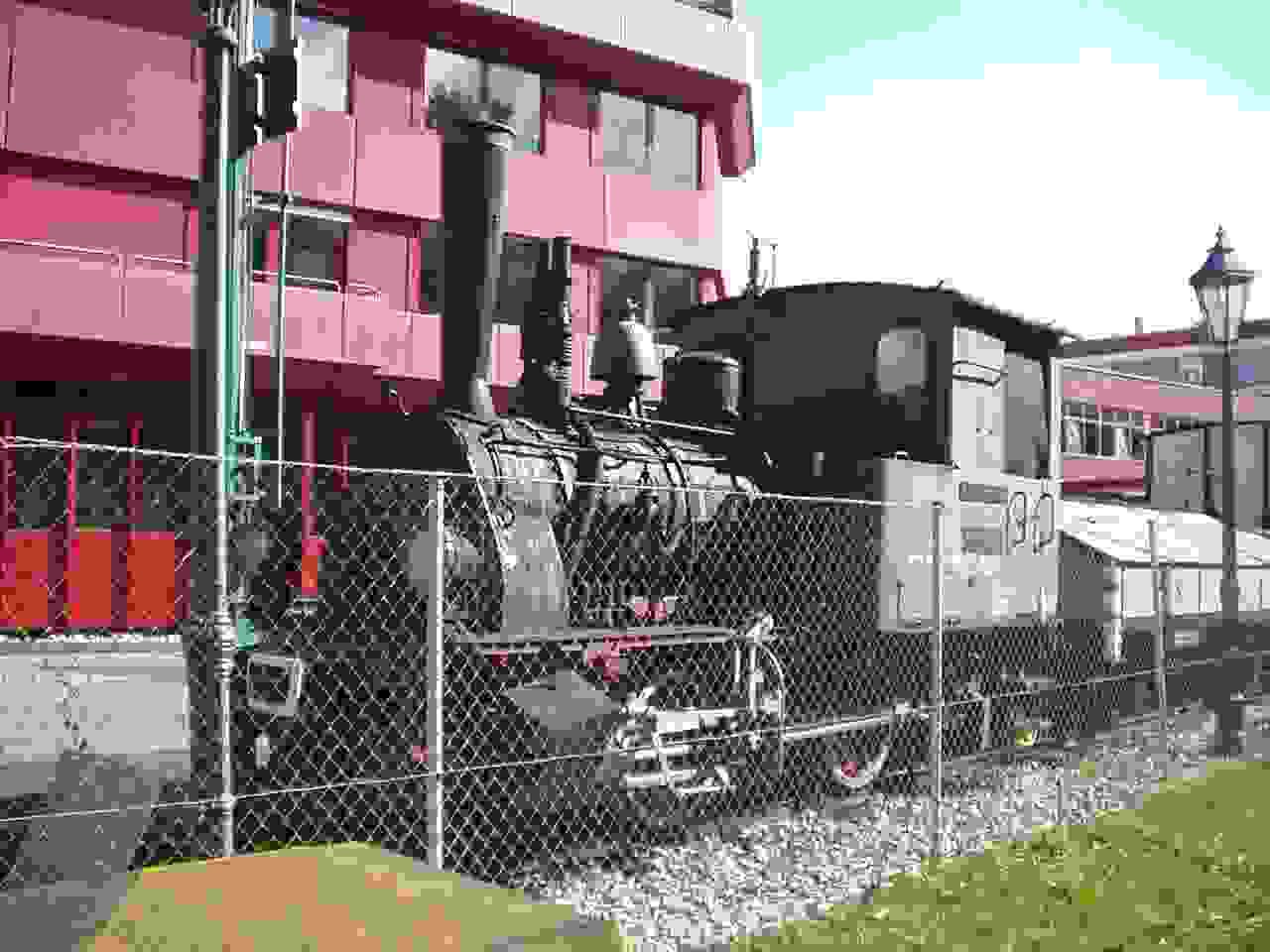 NEW two LGB set coaches, plastic wheels - £65 each

Also some second hand at £45 each
LGB sound tender - boxed. Not much used but was hand painted in green. I have removed 99% of the green but odd bits remain - very presentable and DCC ready - £120. Plus another one, paint not so good but DCC fitted - £100
LGB Cargo train - weathered, no box but fitted with Massoth DCC decoder and a third party basic diesel sound system, metal wheels on rear bogie and container wagon. - £195
As new, unused, boxed ToyTrain cargo train - £190
LGB 47790 GN caboose metal wheels, lights, boxed - £95
Bachmann
As new Bachmann LYN fitted with Massoth DCC/sound and capacitor - £350
Bachmann 2 truck shay. Original box. Very little running. Really nice condition with crew and unopened accessory pack and instructions. One water pipe bracket and CD missing - £350 and £400. Choice of two
NEW Bachmann street car. Beautiful model with twin motor bogies. lights, opening doors. NEW - £265
Bachmann 2 x pained kit box cars, plastic wheels, no boxes- £30 each - 2 for £55

I also have a few other Bachmann wagons.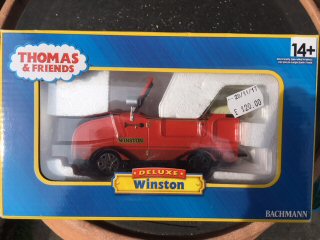 NEW item. Bachmann Sir Topham Hatts car - runs on rails - £112 (to order)
NEW item. Bachmann Sir Topham Hatts himself - £10 (to order)
NEW item. Bachmann Speeder UP (silver) - £93 Orange Maintenance of Way in stock
Liliput (Bachmann) Gondolas, grey or red, NEW, with metal wheels, special offer - £40 each
Accucraft
Available again at last. The Baugley Drewery diesel. Track powered but loads of space to convert to battery. All metal chassis - £350 - This is a NEW item available in Red (as shown) in stock, green (in stock), and blue. Chassis only - £250
Roundhouse
PIKO
PIKO TAURUS (this is a NEW item) fitted with PIKO DCC and electric sound - £295
Class 218 Diesel. 37502. No longer in the catalogue. Maybe the best colour? - £275 NEW
Get ready for Christmas with the ultimate Christmas Train
Be prepared for Christmas 2020. I have a PIKO Christmas train for sale - all in perfect condition, hardly used and in the original packaging. Or why not consider an interesting project convert this train to the Railroad of your choice?
This is the full sound version (not Christmas sounds). It has factory fitted DCC but runs just as well (including the sound) using an analogue controller. This would be £500 for the locomotive and three coaches.
PIKO set coaches (a change from LGB) ex set so new condition - £65 each or £120 pair
NEW - PIKO 4 wheel flat wagons, plastic wheels 37940 -green X 2 and 37904 -brown X 1, big saving

£45 each NEW or 3 for £120
USA Trains
USA Trains High hood GP9 boxed. One left - xcellent - £300
Some more interesting NEW items.
L & B EXE 2-6-2T locomotive. Live steam manual. I have this one here in stock - NEW £1850
Accucraft Rolling Stock
R19-9B Data only and 9A L&B #23 bogie guards vans (these are NEW items) - £85 each
HOWARD VAN - £100
Other interesting items
1:25th US car kit - £17
00
I have a reduced selection of secondhand 00 Hornby and Bachmann etc. locos, coaches and wagons. Just ask - I might have something you need.
HORNBY DUBLO and WRENN
I have also some vintage 2 and 3 rail HORNBY DUBLO plus Wrenn locomotives and wagons. This has always been an interest and I now have a fair selection of locos, track, stations etc. Just ask - A couple of examples below...
A nice Duchess of Atholl - £60 - All my locos are cleaned oiled and tested, re-magnetized or fitted with neo magnets if needed.

Just a small selection of what I have, changing all the time- Duchess of Montrose - all about £40.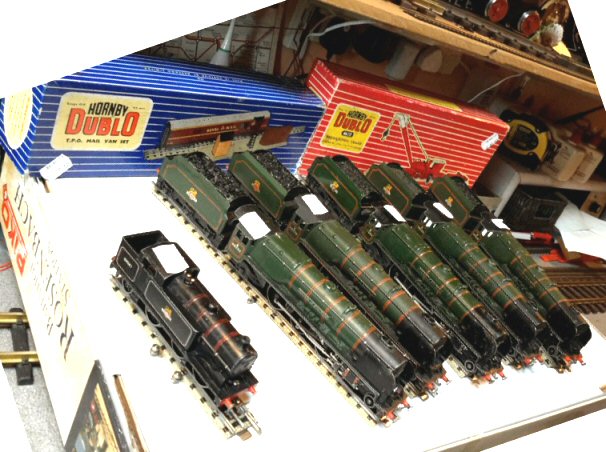 An interesting bit of vintage control gear in amazing condtion in its original box with factory guarantee (now run out!) Works well - suit a vintage 00/H0 layout - Hornby Dublo 3 rail maybe? - £40 PAT tested
---