Scottish Garden Railways

Large scale trains in YOUR garden or home
Scotlands first Garden Train specialist
---
---
Last goods delivered to this station 13 December 2018
(Sound on this page is of Ex LNER B1 No.61264 leaving Perth)
(POST AND PACKING BY ARRANGEMENT)
---
Items added when available
---
The following pictures are of some of my current secondhand stock. Postage at cost unless I've said I will pay it. Most items are in excellent condition and with their boxes... (E&OE)

MORE, different items might also be available- PLEASE CALL 01786464193, 07914347473 or e-mail sandy@gardentrains.co.uk
---
Train Sets
I have a great selection of Train Sets
Bachmann
Bachmann Li'l Big Hauler Circus set. This is a complete train set with locomotive, tender, wagon, caboose, mains controller and oval of TIN track. - £135 This is a NEW set. I can supply a used 4ft diameter circle of LGB brass track (12 pieces) with this set for £35
Bachmann Percy set. (not many around). This is a complete train set with locomotive, 2 X troublesome trucks, mains controller and oval of TIN track. - £250 This is an unused set. I can supply a used 4ft diameter circle of LGB brass track (12 pieces) with this set for £35
PIKO
PIKO Mighty Hauler set. A complete train set with locomotive, 2 X bogie hopper trucks, mains controller and oval of BRASS track. - £220 This is a great new starter set for G scale from PIKO. Loco is really solid with directional and interior lights (person not included)
LGB
LGB passenger starter set. Red Stainz locomotive with sound/lights/smoke, 2 X red coachs, controller, circle of brass track and 4 people - £355. This is a NEW set
Aristocraft
Aristo-craft o-4-0 switcher loco - DCC fitted and original chuff sound tender PENNSYLVANIA . - £150
Aristocraft Critter Rio Grande - excellent boxed with instructions, little used - £150
LGB
LGB Austrian Diesel. In fantastic condition DCC Ready Boxed - £425
LGB 2-4-0 Pennsylvania loco Hardly run but with small repair to one corner of the cab roof - ex set so no box - £150
LGB Rugen railway 0-8-0T loco. This is the latest Marklin version with DCC and sound. Mint boxed - £700 (at least £950 new)
LGB maintenance tram with tower inspection wagon. Unused, as new, DCC ready (I can fit a decoder if you would like - for the cost of the decoder) - £325
U class 0-6-2t 21711- A very old "Made in Germany" version of this loco, DC analogue only, as new, tested only with box, real collectors item - £325
U class 0-6-2t 2171D- A very old "Made in Germany" version of this loco, DC analogue only, as new, tested only with box, real collectors item - £325
This is the earliest U loco 2073D I have ever seen complete with original yellow box with box inserts -£250
Richter Special edition Stainz - £175 - one left
LGB set Stainz - good condition with sound and DCC ready - £150
I usually have several LGB Stainz locomotives of varying ages and conditions All good runners and tested, Real thing shown -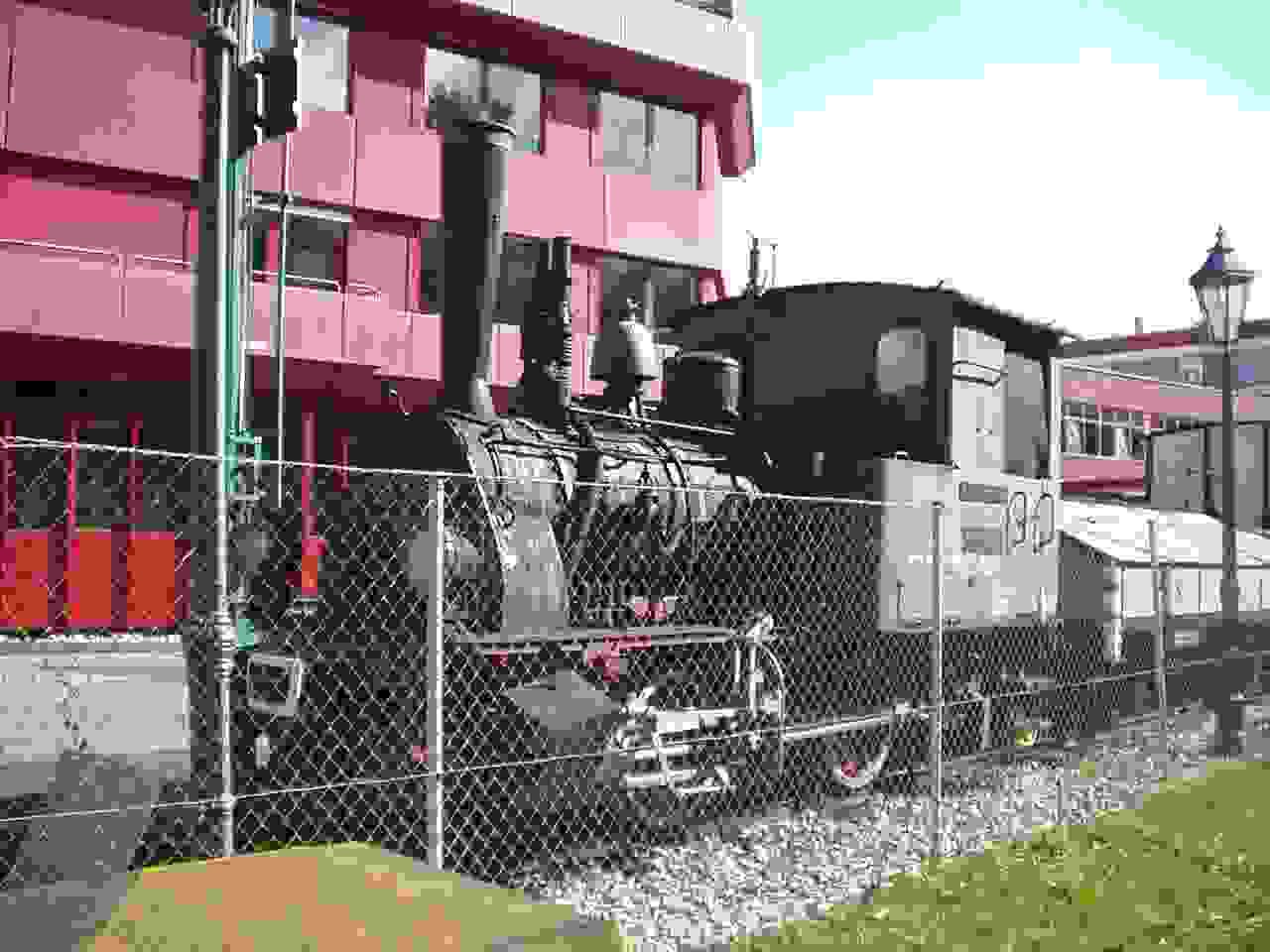 LGB small US coaches in excellent condition with plastic wheels ex set - £45 EACH
NEW two LGB set coaches, plastic wheels - £65 each
LGB set coaches X 2 pairs - very good condition one has a few people , plastic wheels- £45 each
LGB sound tender - boxed. Not much used but was hand painted in green. I have removed 99% of the green but odd bits remain - very presentable and DCC ready - £120
LGB Cargo train - weathered, no box but fitted with Massoth DCC decoder and a third party basic diesel sound system, metal wheels on rear bogie and container wagon. - £195
As new, unused, boxed ToyTrain cargo train - £190
LGB small wagons with pretty much fixed in loads - weathered £30 EACH or 4 for £110
LGB open wagon in good condition - £40
Caboosi , plastic wheels, LGB bobber, glued a bit - £20, LGB bogie - £30, PIKO bogie - SOLD
Bachmann
As new Bachmann LYN fitted with Massoth DCC/sound and capacitor - £350
Bachmann 2 truck shay. Original box. Very little running. Really nice condition with crew and unopened accessory pack and instructions. One water pipe bracket and CD missing - £500
Bachmann big hauler with an Aristocraft 8 wheel chassis making a unique 4-8-0.. Built and weathered by a very compitant modeller. Runs OK. Metal wheels on tender. Sound disconnected - Must be worth £125 even just to display.
NEW Bachmann street car. Beautiful model with twin motor bogies. lights, opening doors. NEW - £265
Good supply of NEW Thomas troublesome trucks at £38 each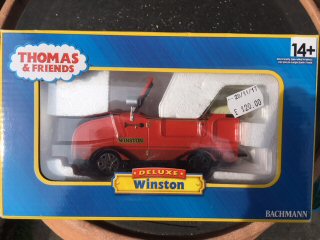 NEW item. Bachmann Sir Topham Hatts car - runs on rails - £130
NEW item. Bachmann Sir Topham Hatts himself - £10
NEW item. Bachmann Speeder UP - £93 (NOW SOLD but available to order)
Bachmann wagons - modified (nicely) stake wagons with metal wheels - £30 each
Accucraft
Radio controlled Caradoc in red. Great runner- £850
Roundhouse
COMING SOON - Radio controlled Fowler in dark green. 45mm. Factory fitted radio control only fired a couple of times. Goes like a rocket - £1550
PIKO
PIKO TAURUS (this is a NEW item) fitted with PIKO DCC and sound - £295
Class 218 Diesel. 37502. No longer in the catalogue. Maybe the best colour? - £275 NEW
PIKO blue railbus and trailer. Perfect condition boxed - £325
NEW - PIKO 4 wheel flat wagons, plastic wheels 37940 -green X 2 and 37904 -brown X 1, big saving

£45 each NEW
USA Trains
USA Trains Mighty Mo in great condition - little use - boxed - £175
This USA Trains dock shunter. This locomotive is all metal diecast and is amazingly heavy. It has been weathered, UKised a bit with a different headlight and "chopper" narrow gauge couplings and had a Massoth DCC decoder fitted. This means the original sound no longer works. £200
Some more interesting NEW items.
ACCUCRAFT LIVE STEAM
L & B EXE 2-6-2T locomotive. Live steam manual - £1850
Accucraft Rolling Stock
R19-9B Data only and 9A L&B #23 bogie guards vans (these are NEW items) - £85 each
Other interesting items
1:25th US car kit - £17
Liliput (Bachmann) Gondolas, grey or red, NEW, with metal wheels, special offer - £40 each
00
I have a reduced selection of secondhand 00 Hornby and Bachmann etc. locos, coaches and wagons. Just ask - I might have something you need.
HORNBY DUBLO
I have also some vintage 3 rail HORNBY DUBLO. This has always been an interest and I now have a fair selection of locos, track, stations etc. Just ask - A couple of examples below...
A nice Duchess of Atholl - £60 - All my locos are cleaned oiled and tested, re-magnetized or fitted with neo magnets if needed.

ust a small selection of what I have - Duchess of Montrose - all about £40.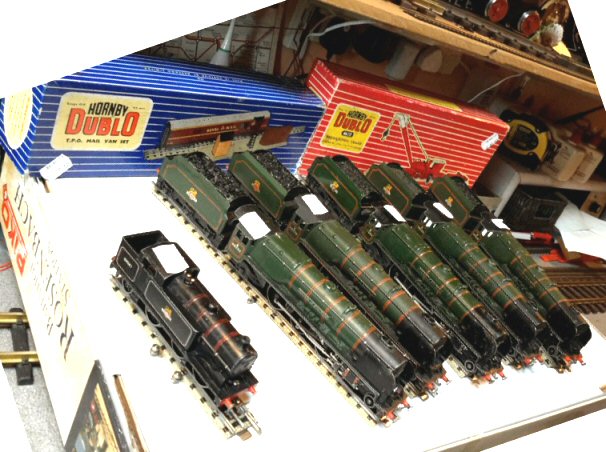 An interesting bit of vintage control gear in amazing condtion in its original box with factory guarantee (now run out!) Works well - suit a vintage 00/H0 layout - Hornby Dublo 3 rail maybe? - £40 To be PAT tested
---